BACK TO PRODUCT
RESULTS
BElla Technical Specifications
Melamine impregnated decorative film. Protected by anti abrasive overlay.

H.D.F. (High Density Conifer Fibreboard) with wax treated tongue for greater water/moisture resistance. Average core density 850/880 kg/m³.)
AC3/W31 – EN 13329 compliant
Unilin L2C locking system (Glueless installation)
10 years domestic and 5 years Moderate commercial use.
Inovar Floor products conform to EN-13329 performance standards

Highly Stain Resistant
– Covered under a SOLID Direct Manufacturer's Warranty Inovar Floor and Finfloor products have a sealed surface, which ensures that dust and dirt simply can't penetrate or cling on stubbornly. That's why it's hygienic, easy to maintain and kind to people with allergies – all for the good of your health! Furthermore, cleaning detergents are practically a thing of the past as the floor cleans well with just plain water and a damp microfibre cloth / mop. That is good news for the environment and good news for your shopping bill!
Highly Wear Resistant
– Covered under a SOLID Direct Manufacturer's Warranty Inovar Floor and Finfloor products have a wear-resistant layer on the surface specifically engineered to protect it from being easily-scratched, thus, making it a longer-lasting product, compared to other types of floor covering materials.
Fade Resistant
– Covered under a SOLID Direct Manufacturer's Warranty All of our design layers (the layer in the flooring surface that shows the wood pattern) are produced with imported raw material from Europe and US. They are produced under stringent quality control measures according to global industry standards.
Superior Water Resistant Core
– Less than 18% Thickness Swelling rate But just being tough is not enough. The core of Inovar Floor and Finfloor products is made of hardwood fibres with very good water resistant properties. The result – a tough floor covering material which is very water resistant. So, when you are looking for the best in laminate flooring, choose Inovar Floor or Finfloor, because the advantage is clear.
Flooring Composition AGT - Natura Line
The diagram below displays the Flooring composition of the various types of floors that are available.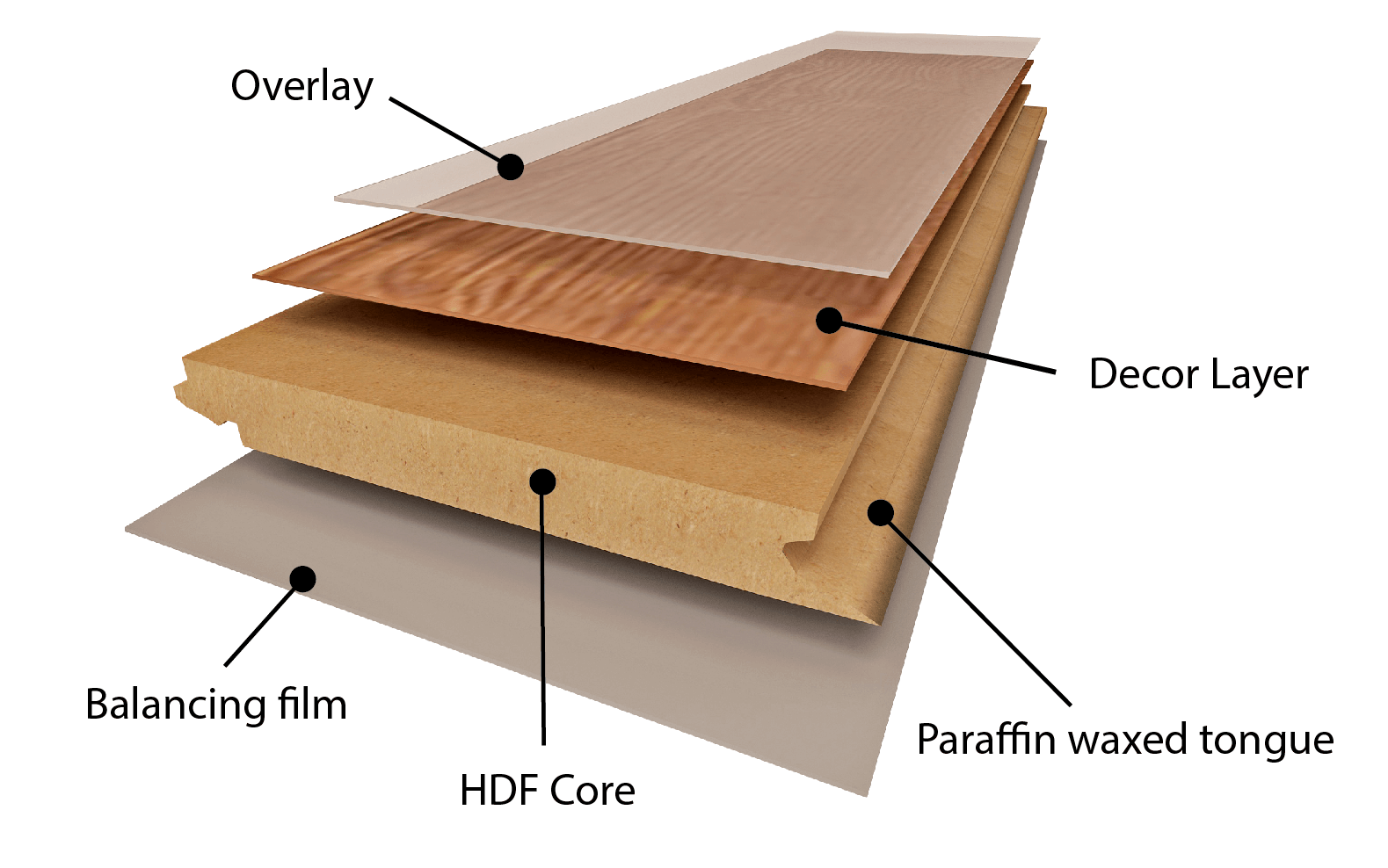 Maintenance as Easy as 1,2,3!
Due to the composition and construction of the product, as well as the extremely hard-wearing and non-toxic aluminum oxide protection layer on the surface, trouble-free cleaning and maintenance is well within reach.
General daily maintenance only requires sweeping or vacuuming to remove any loose dirt. Use a damp mop with plain water to clean. Avoid excessive amounts of water. If a spill occurs, soak up the liquid promptly. Floor polish or wax are unable to penetrate the surface of the floor and are not recommended.
Stubborn stains like grease, tar, mud, shoe or nail polish etc can be spot cleaned with Finfloor special cleaning agents. While Inovar Floor is highly fade-resistant, stain-resistant, impact-resistant, burn-resistant as well as very scratch- resistant, it is still possible that you may end up with an unintentional scratch when some extremely sharp or very heavy furniture is accidentally dragged across. For peace of mind, please use felt pads on the legs of furniture to prevent such incidents.
Frequently accessed areas/entrances should be protected with a suitable doormat (of sufficient size) to keep away coarse dirt, grit and stones. Furniture legs should be protected by felt pads or plastic caps. When moving heavy furniture lift it and do not drag it across the floor. Put UV filter/sheer/curtain/blinds on windows in areas where there is direct exposure to sunlight.