BACK TO PRODUCT
Inovar Floor laminate flooring can be used and installed as a DIY product. Although we strongly recommend using a professional to make sure your subfloors and installation method are adequate to keep your warranty in order. Every box has the installation instructions on the back on the box. If you would like to view the instructions online please view instructions or download them as a pdf.

VIEW INSTRUCTIONS
Installation Instructions – Inovar Floor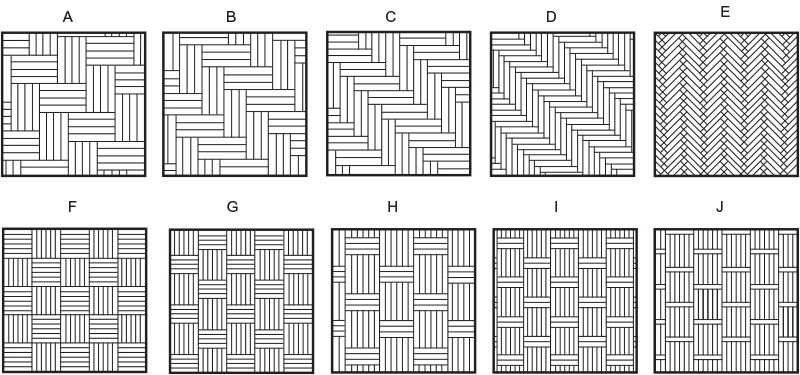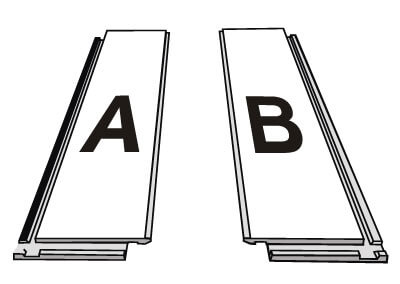 Box contains : 36 pieces
Board Dimensions : 12mm x 101mm x 606mm
Pack Size : 2.203m²
Fit for Use grading : AC4/W32
Two different types of boards are used to lay out the herringbone pattern. These are referred to as A and B boards. N.B. – Please separate A and B panels into 2 separate stacks prior to commencing installation.
Care Instructions
Authentic herringbone click laminate flooring is extremely easy to clean.
Routine Cleaning
Vacuum, use a dust mop or wipe with a damp cloth. For spills, just wipe up with a cloth, do not wet mop laminate flooring
Do not use soap-based detergents, as these may leave a dull film on your floor.
Do not wax or polish your floor.
Do not use abrasive cleaners, steel wool, or scouring powder, which can scratch your floor.
Laminate flooring, like other types of smooth floors, can become slippery when wet. Allow time for floor to dry after washing. Immediately wipe up wet areas caused by spillages, foreign substances and wet feet
Tough Spots
Remove tough spots eg. shoe polish with neat acetone.** Then wipe with a damp cloth. **may be combustible/flammable, please follow instructions on label
Protection
Place a natural or colourfast mat at outside entrances to collect tracked-in dirt and absorb excess moisture For added protection to the flooring surface, use floor protectors on chairs and other furniture. The heavier the item, the wider the floor protector should be.
25 Year limited Warranty
What is covered and for how long?
We guarantee that to the original purchaser, for 25 years from the date of original purchase and in a dry residential indoor setting, your laminate floor will be free from manufacturing defects and the decorative paper will not show signs of wear.
What will we do if any of the things listed above happen?
If you make a claim within the warranty period and follow our servicing procedures, we will provide materials either to repair the defective area or replace the floor, at our discretion.
What is not covered by this warranty?
This warranty does not cover damage caused by:
Improper care and maintenance
Accidents, abuse or misuse
Abnormal wear and tear such as damage caused from "untipped" spike heel shoes, insufficient protection from furniture, pebbles, sand and other abrasives
Improper workmanship, or installation not in accordance with our installation instructions
Water damage from moisture in a concrete slab, hydrostatic pressure, flooding caused by ice makers, refrigerators, sinks, dishwashers, pipes or natural disasters
Planks coming apart at the seams because they have been engaged/disengaged more than three times
Damage caused by vacuum cleaner beater bars and hard or metal castor wheels – when vacuuming we recommend using the wand attachment on your vacuum. if rolling castors are used, we recommend only soft wheels that are wide enough to support the load
Damage caused by pet urine which has not been promptly wiped up and removed
Painted bevelled edges
We exclude and will not pay for incidental or consequential damages under this warranty. By this we mean any loss, expense or damage other than to the flooring itself that may result from a defect in the flooring. No implied warranties extend beyond the terms of this written warranty.
How do I get service?
We want you to be happy with your floor. If you're not, call your retail store. They can answer your questions. Please keep your receipt, we need this in order to verify date and proof of purchase to resolve any problems that may occur.
Where to Install
All floor areas including basements. Over smooth, well bonded vinyl floors, over concrete, ceramic tile, terrazzo, marble and board type underlayments.
Subfloor preparations
Subfloor must be clean, dry and level. Remove existing skirting or trim. Door trims and doorjambs must be undercut to allow the floor to move freely.
RESULTS
Authentic Herringbone Laminate floor AC4/W32 – Technical Specifications
Melamine impregnated decorative film. Protected by anti abrasive overlay.

H.D.F. (High Density Conifer Fibreboard) impregnated with wax treatment for greater water/moisture resistance. Average core density >880/900 kg/m³.
AC4/W32 – EN 13329-2006 general commercial application.
Interlocking Valinge – drop down system (Glueless installation)
25 years heavy domestic 5 years General commercial use.
Inovar Floor products conform to EN-13329 performance standards

Highly Stain Resistant
– Covered under a SOLID Direct Manufacturer's Warranty Inovar Floor and Finfloor products have a sealed surface, which ensures that dust and dirt simply can't penetrate or cling on stubbornly. That's why it's hygienic, easy to maintain and kind to people with allergies – all for the good of your health! Furthermore, cleaning detergents are practically a thing of the past as the floor cleans well with just plain water and a damp microfibre cloth / mop. That is good news for the environment and good news for your shopping bill!
Highly Wear Resistant
– Covered under a SOLID Direct Manufacturer's Warranty Inovar Floor and Finfloor products have a wear-resistant layer on the surface specifically engineered to protect it from being easily-scratched, thus, making it a longer-lasting product, compared to other types of floor covering materials.
Fade Resistant
– Covered under a SOLID Direct Manufacturer's Warranty All of our design layers (the layer in the flooring surface that shows the wood pattern) are produced with imported raw material from Europe and US. They are produced under stringent quality control measures according to global industry standards.
Superior Water Resistant Core
– Less than 8% Thickness Swelling rate But just being tough is not enough. The core of Inovar Floor and Finfloor products is made of hardwood fibres with very good water resistant properties. The result – a tough floor covering material which is very water resistant. So, when you are looking for the best in laminate flooring, choose Inovar Floor or Finfloor, because the advantage is clear.
TEST METHODS
IC 2 – height of fall 1700 MM is the maximum height without damage (1750 MM Height)
Insensitivity of wear layer to stains
Light fastness/UV resistance
Level 6 – Blue wool standard (No discolouration) Note: Changes are measured against Blue scale.
Resistant to glowing cigarette Ash
Degree 5 (No visible change)
Measured in permissible P.P.M. emission. Approved and test at quality E 1.
Residual materials disposable with domestic waste. No Toxic fumes released during thermal disposal.
Class Q1 – Low smoke development (Austrian Institute for floor covering).
Residual indentation 0.0 mm (I.B.A – Koblenz).
No negative changes when using soft wheel castors Type W (I.B.A. Koblenz)
Water ResistanceSusceptibility to Cracking
No cracks observable. Specimen is subjected to large temperature change.
Simulated pushing of Furniture leg
Static locking strength (Joint strength)
Flooring Composition AC4
The diagram below displays the Flooring composition of the various types of floors that are available.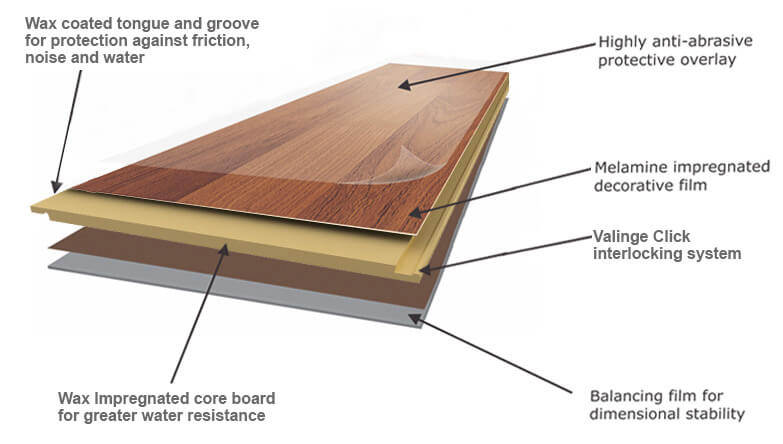 Maintenance as Easy as 1,2,3!
Due to the composition and construction of the product, as well as the extremely hard-wearing and non-toxic aluminum oxide protection layer on the surface, trouble-free cleaning and maintenance is well within reach.
General daily maintenance only requires sweeping or vacuuming to remove any loose dirt.
Use a damp mop with plain water to clean. Avoid excessive amounts of water. If a spill occurs, soak up the liquid promptly.
Floor polish or wax are unable to penetrate the surface of the floor and are not recommended.
Stubborn stains like grease, tar, mud, shoe or nail polish etc can be spot cleaned with Finfloor special cleaning agents.
While Inovar Floor is highly fade-resistant, stain-resistant, impact-resistant, burn-resistant as well as very scratch- resistant, it is still possible that you may end up with an unintentional scratch when some extremely sharp or very heavy furniture is accidentally dragged across. For peace of mind, please use felt pads on the legs of furniture to prevent such incidents.
Frequently accessed areas / entrances should be protected with a suitable doormat (of sufficient size) to keep away coarse dirt, grit and stones.
Furniture legs should be protected by felt pads or plastic caps.
When moving heavy furniture lift it and do not drag it across the floor.
Put UV filter/sheer/curtain/blinds on windows in areas where there is direct exposure to sunlight.